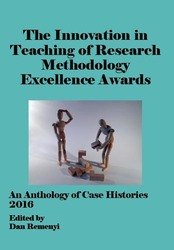 2016 Innovation in Teaching of Research Methodology Excellence Awards An Anthology of Case Histories ISBN: 9781910810972
Edited by Dan Remenyi ISBN: 9781910810972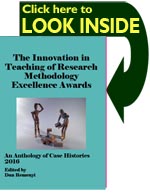 Innovation in Teaching of Research Methodology Excellence Awards 2016: An Anthology of Case Histories 2016.
Edited by: Dan Remenyi
Published by: Academic Conferences and Publishing International
The teaching of research methodology is a challenge for most universities. This is because although most academics will have had to master research methodology for their own research degrees they are often glad to be rid of this subject and stay focused on the core content of what they teach and research. For these people research methodology was a tool which they needed during a period of their lives and which they may need again, but if this is the case it will once more be a tool to solve a specific problem. Many academics are just not interested in a broader understanding of all the issues surrounding how to choose and apply an appropriate research methodology to a particular research problem.
ISBN: 978‐1‐910810‐97‐2