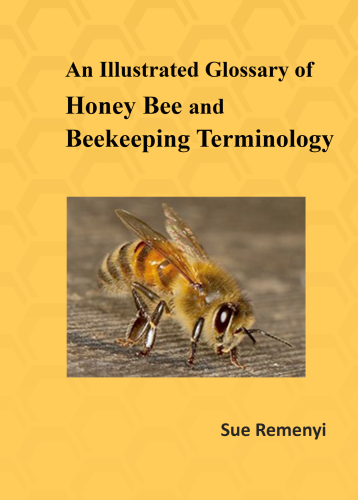 An Illustrated Glossary of Honey Bee and Beekeeping Terminology
By Sue Remenyi ISBN: 978-1-912764-84-6 (print)
Like any pastime, beekeeping continually challenges the beekeeper in many ways, not least of which is understanding the seemingly endless terminology surrounding the bee itself, the diseases it faces, as well as the environment in which it lives, and the tools and equipment required to care for and manage these creatures.
This illustrated glossary of honey bee and beekeeping terms has been written as a pocket guide for both the new and more experienced beekeeper. With more than 800 terms, definitions have been kept deliberately brief, and where possible photographs and illustrations have been included. The glossary has been divided into eight sections and terms are presented alphabetically within each section. A comprehensive reading list is supplied at the end of each section for those wishing to seek further detail on the terms covered. At the end of the book there is an index where every term is listed alphabetically with page numbers to quickly look up a particular term.
This book will be a useful aid for anyone pursuing the BBKA modules, as every effort has been made to include terms relevant to the areas of this craft that are covered in these exams.