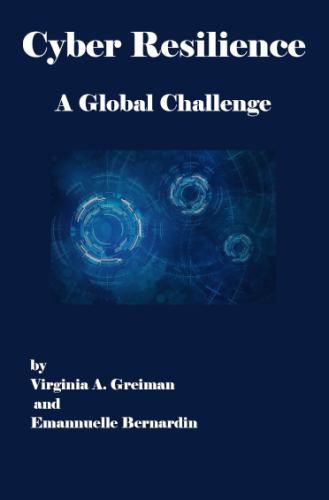 Cyber Resilience A Global Challenge
Virginia A. Greiman and Emmanuelle Bernardin ISBN: 978-1-914587-02-3
The rapid development of Digital Transformation has enabled profound changes in the strategies and operations across different industries around the world. Yet, this digitalisation has not only opened up new opportunities for individuals and businesses to obtain information, conduct business and communicate, but also has brought more vulnerabilities and risen the tide of threats allowing cybercriminals to conduct ever more sophisticated, targeted, and destructive cyberattacks. Every year, a new wave of cyber-attacks is affecting a significant number of organizations across a wide range of industries, and they are not showing any signs of slowing down in the near future. Several huge cyber-attacks have already made the headlines during 2021 such as:
- Bombardier, the Canadian plane manufacturer, suffered a data breach in February 2021. The breach resulted in the compromise of the confidential data of suppliers, customers and around 130 employees located in Costa Rica.
- Acer, the world 6th-largest PC vendor, was hit with a $50 million ransomware demand.
- The University of California, San Francisco paid a ransom of $1.14 million after the NetWalker ransomware locked down multiple servers of its School of Medicine.
- CNA Financial, one of the largest insurance firms in the U.S., reported a cyber-attack that disrupted the organization's customer and employee services for three days. It caused a network disruption and impacted certain CNA systems, including corporate email.
- T-Mobile Hacker Stole Data on 50 Million Customers
These examples show that absolute security is impossible. With new digital technology and innovations usages and adoption, come new risks. It is now no longer a matter of 'if' but 'when' an organization will suffer a cyber-attack, especially in our increasingly digital world. These threats and cyberattacks will keep increasing and become more creative by finding new ways to exploit the users and technology to access passwords, networks, and valuable data. They will impact the business chain value dynamics and prevent organizations from pursuing new growth opportunities, entering new markets to launching a new sales channel or delivering new and improved customer experience. Witnessing the extent of damage cyber-attacks can cause should be reason enough to take the necessary preventive measures right away. Unfortunately, when it comes to advancing their security controls, organizations still function with a vague cyber resilience strategy.
Given today's increasingly evolving threat landscape, cyber resilience has become one of the most important factors in determining the success of an organization. It has emerged over the past few years because traditional cyber security measures are no longer enough to protect organizations from the spate of persistent attacks. Adopting a cyber-resilience strategy is a priority because cyber security is about reacting while cyber resilience is about anticipating the hidden risks in the actual digital economy. It will enable organizations operating in critical environments to defend themselves from attacks that are looming in the distance, maintain business continuity, and stay competitive.
This essential book will give a clear overview of cyber resilience challenges and bring more clarity to the concept of resilience and how to develop a concrete operational strategy in all organizations including multi-national corporations, small private companies as well as regional and national governments. Featuring real-world case studies, as well as providing an interesting comparison of resilience strategies between the United States and Europe, this book is packed with clear explanations, sound advice, and practical examples to help you understand and apply the principles of cyber resilience effectively.