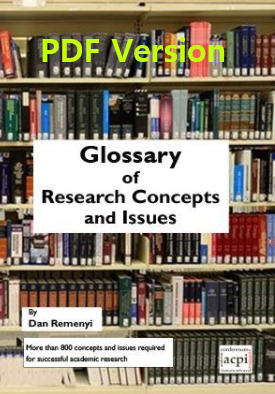 A Glossary of Research Concepts and Issues - PDF version
By Dan Remenyi
More than 800 essential concepts and issues required for successful academic research
Learning the vocabulary of academic research is the first step for many individuals on their journey to become a successful academic researcher. It is an important step and for some individuals it can appear to be a substantial hurdle.
Furthermore, it is not a hurdle over which a novice researcher can spring in one giant leap. There are many concepts to come to terms with and there are also many process issues to learn about. In addition, academic research is an evolving endeavour; new ideas, concepts and processes are regularly being added and it is necessary to keep up with this vocabulary.
This dictionary offers 800+ terms and concepts which students and their supervisors will find essential. It will also be of value to other researchers who want to expand their horizon into new or different aspects of their research activities.