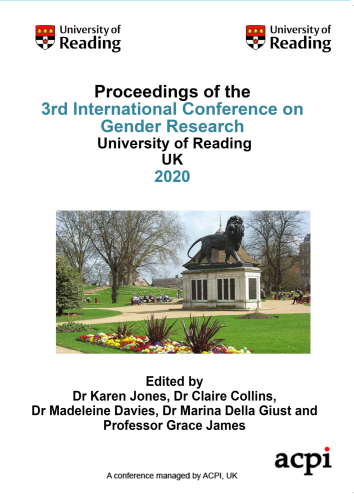 ICGR 2020 PDF- Proceedings of the 3rd International Conference on Gender Research
Edited by: Dr Karen Jones, Professor Claire Collins, Professor Madeleine Davies, Professor Marina Della Giust and Professor Grace James ISBN: 978-1-912764-56-3
These proceedings represent the work of contributors to the 3rd International Conference on Gender Research (ICGR 2020), hosted by the University of Reading, UK. The Conference Chair is Dr Karen Jones and the Programme Co-Chairs are Professor Claire Collins, Professor Madeleine Davies, Professor Marina Della Giust and Professor Grace James, all from University of Reading.
The conference was due to run at University of Reading in April 2020 but due to the global COVID-19 pandemic the conference was postponed. We plan to run the conference virtually or physically later in the year and hope that the invited keynote speakers will be able join us then.
ICGR is a well-established event on the academic research calendar and in its 3rd year the key aim remains the opportunity for participants to share ideas and research. The subjects covered illustrate the wide range of topics that fall into this important and ever-growing area of research.
The opening keynote presentation is given by Heather Joshi, from the Centre for Longitudinal Studies, UCL Institute of Education on the topic of Parenthood and Paid Work: conflict, compromise and compatibility. The second day of the conference will open with an address by Julie Bindel, journalist, writer, broadcaster and researcher who will talk about What do we do about male violence?
With an initial submission of 194 abstracts, after the double blind, peer review process there are 30 Academic research papers, 9 PhD research papers and 3 work-in-progress papers published in these Conference Proceedings. These papers represent research from Argentina, Australia, Bangladesh, Belgium, Canada, Cyprus, Czech Republic, Egypt, Germany, Hungary, Indonesia, Ireland, Israel, Italy, Japan, Kuwait, Mexico, Morocco, Nigeria, Pakistan, Poland, Portugal, Qatar, Russia, Slovenia, South Africa, Spain, Sri Lanka, The Netherlands, UAE, UK, USA, Vietnam and Zambia.