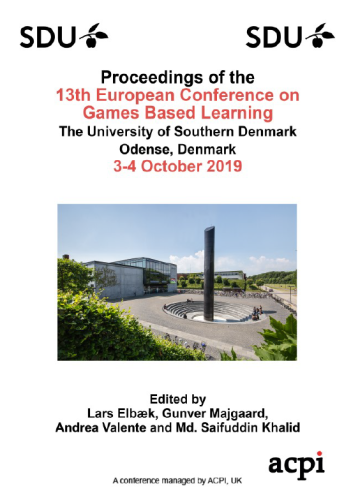 ECGBL 2019 - The Proceedings of the 13th International Conference on Game Based Learning PRINT VERSION
Edited by Lars Elbæk, Gunver Majgaard, Andrea Valente and Md. Saifuddin Khalid ISBN: 978-1-912764-38-9
These proceedings represent the work of contributors to the 13th European Conference on Games Based Learning (ECGBL 2019), 3-4 October 2019, hosted by the Faculty of Engineering and Department of Sports Science and Clinical Biomechanics at the Faculty of Health Sciences, University of Southern Denmark in collaboration with the Maersk Mc-Kinney Moller Institute. The Conference Chair is Lars Elbæk and the Programme Chairs are Gunver Majgaard, Andrea Valente and Md. Saifuddin Khalid, all from University of Southern Denmark, Denmark.

The Maersk Mc-Kinney Moller Institute is an internationally recognized research organisation, which has maintained a leading position in robotics for more than two decades. The Institute focuses on game-based learning related research in robotics and embodied systems for learning, including mixed realities and the design of educational tools, digital didactical design and social responsibility.

The Department of Sports Science and Clinical Biomechanics at the University of Southern Denmark pursues research on innovation and scientific knowledge-based studies of the human body, sport, active living, health and digital design as well as human movement, sport and game-based learning as current fields of development.
At ECGBL this year the two departments are highlighting the themes of:
• Virtual reality and augmented reality for learning
• Game-based physical activity and health
• STEM pathways in educational practice
• Game based design
ECGBL is a well-established event on the academic research calendar and now in its 13th year the key aim remains the opportunity for participants to share ideas and meet the people who hold them. The scope of papers will ensure an interesting two days. The subjects covered illustrate the wide range of topics that fall into this important and ever-growing area of research.

The opening keynote presentation is given by Helle Marie Skovbjerg from the Design School Kolding, who will speak about Playful play-design – balancing between danger and safety in children full body play. On Thursday afternoon LEGO education will facilitate an interactive plenary session. The second day of the conference will open with an address by Simon Egenfeldt-Nielsen from Serious Games Interactive who will talk about Social Gamification - Blended learning games.

With an initial submission of 205 abstracts, after the double blind, peer review process there are 93 Academic research papers, 15 PhD research papers, 4 Masters Research papers and 13 work-in-progress papers published in these Conference Proceedings. These papers represent research from Australia, Austria, Bulgaria, Canada, China, Croatia, Czech Republic, Denmark, Finland, Germany, Greece, Iran, Ireland, Italy, Malta, Mexico, The Netherlands, Norway, Portugal Russia, Slovakia, South Africa, Spain, Sweden, Switzerland, Taiwan, the United Kingdom and the United States of America.