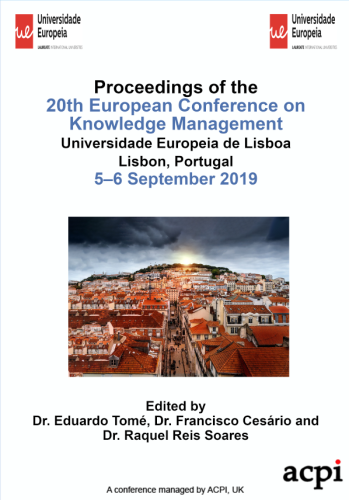 ECKM 2019 - Proceedings of the 20th European Conference on Knowledge Management PRINT VERSION
Edited by Dr. Eduardo Tomé, Dr. Francisco Cesário and Dr. Raquel Reis Soares
These proceedings represent the work of contributors to the 20th European Conference on Knowledge Management (ECKM 2019), hosted by Universidade Europeia de Lisboa, Lisbon, Portugal on 5–6 September 2019. The Conference Chair is Dr. Eduardo Tomé and the Programme Chairs are Dr. Francisco Cesário and Dr. Raquel Reis Soares, all from Universidade Europeia, Lisbon, Portugal.

ECKM is now a well-established event on the academic research calendar and now in its 20th year the key aim remains the opportunity for participants to share ideas and meet the people who hold them. The scope of papers will ensure an interesting two days. The subjects covered illustrate the wide range of topics that fall into this important and ever-growing area of research.

The opening keynote presentation is given by Dr. Aino Kianto, from LUT University, on the topic of Contingencies and complexities of the knowledge-performance relationship. Then an afternoon keynote will be given by Prof. Anthony Wensley, the University of Toronto Mississauga, on the subject The future of KM at the Macro and Micro Level. The second day of the conference will open with an address by Mark Davies, Universidade Europeia, Lisbon, Portugal, who will talk about Trust in Business Relationships.

With an initial submission of 275 abstracts, after the double blind, peer review process there are 135 Academic research papers, 6 PhD research papers, 2 Masters Research papers and 1 work-in-progress paper published in these Conference Proceedings. These papers represent research from, Algeria, Australia, Austria, Bahrain, Brazil, Canada, China, Colombia, Czech Republic, Denmark, Finland, France, Germany, Greece, Hungary, Iceland, India, Iran, Ireland Israel, Italy, Japan, Jourdan, Malaysia Morocco, Norway, Poland, Portugal, Romania, Russia, Slovakia, South Africa, Spain Sweden, Switzerland, , UAE, UK and USA.