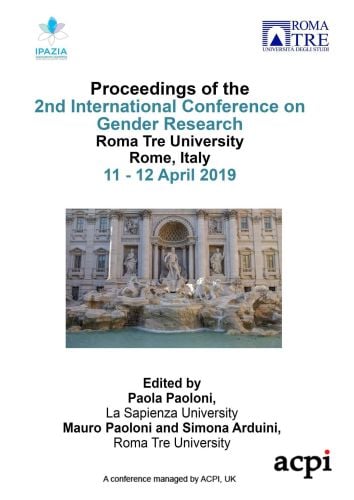 ICGR 2019 PDF - Proceedings of the 2nd International Conference on Gender Research
Edited by Prof. Paola Paoloni, Prof. Mauro Paoloni and Prof. Simona Arduini ISBN: 978-1-912764-15-0
These proceedings represent the work of contributors to 2nd International Conference on Gender Research (ICGR 2019), hosted by Ipazia, the Scientific Observatory on Gender Issues and Roma Tre University, Rome on 11 - 12 April 2019. The Conference Chair is Professor Paola Paoloni, La Sapienza University, and the Programme Chairs are Professor Mauro Paoloni and Professor Simona Arduini, from Roma Tre University.
Ipazia, the Scientific Observatory on Gender Issues, aims to build a comprehensive and continuously updated framework of research, services, projects, and initiatives related to women that define the feminine condition at local, national and international levels. The observatory is working towards these objectives by facilitating workshops, seminars, conferences, studies, scientific laboratories on gender studies.
ICGR is now in its 2nd year and the key aim remains, the opportunity for participants to share ideas and meet the people who hold them. The scope of papers will ensure an interesting two days with researchers coming from a diverse range of backgrounds. The subjects covered illustrate the wide range of topics that fall into this important and ever-growing area of research.
The opening keynote presentation is given by Karmen Jelčić, CEO, Intellectual Capital Center in Croatia - Empowering Women Through IC: A Croatian case study. The second day of the conference will open with an address by Dragana Djermanovic, CEO Pepper Consulting Group, Novi Sad, Serbia - Female Entrepreneurship in the Digital era.
With an initial submission of 235 abstracts, after the double blind, peer review process there are 83 Academic research papers, 12 PhD research papers, 3 Masters Research papers and 1 work-in-progress paper published in these Conference Proceedings. These papers represent research from Austria, Belgium, Canada, Colombia, Cyprus, Denmark, Ecuador, France, Germany, Hungary, India, Indonesia, Iran, Ireland, Israel, Italy, Kuwait, Latvia, Mexico, Morocco, Nigeria, Norway, Pakistan, Poland, Portugal, Romania, Russia, Slovakia, South Africa, Spain, Sweden, The Netherlands, Turkey, United Kingdom, United States of America, Vietnam and Zambia