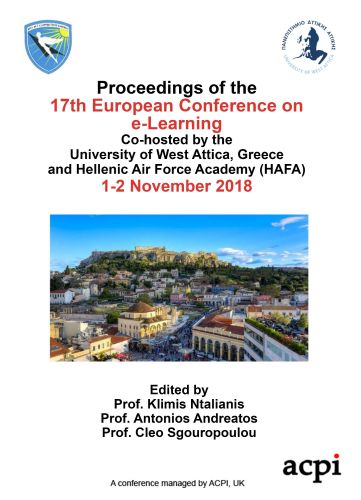 ECEL 2018 PDF - Proceedings of the 17th European Conference on e-Learning
Edited by Prof. Klimis Ntalianis, Prof. Antonios Andreatos and Prof. Cleo Sgouropoulou ISBN: 978-1-912764-07-5
**PDF Version** Print Version also available via Curran soon
These proceedings represent the work of contributors to the 17th European Conference on e- Learning (ECEL 2018), Co-hosted by: the University of West Attica, Greece and Hellenic Air Force Academy (HAFA) on 1-2 November 2018. The Conference Chair is Prof. Klimis Ntalianis from West Attica University and the Programme Co-Chairs are Prof. Antonios Andreatos from the Hellenic Air Force Academy and Prof Cleo Sgouropoulou from West Attica University.
ECEL is a well-established event on the academic research conference calendar and now in its 17th year the key aim remains the opportunity for participants to share ideas and meet the people who hold them. The scope of papers will ensure an interesting two days. The subjects covered illustrate the wide range of topics that fall into this important and ever-growing area of research. For the 4th year the conference has also played host to the final round of the International e-Learning Excellence Awards.
The opening keynote presentation is given by Prof. Michalis Xenos from the University of Patras who will address the topic of Everything is blended learning. Then an afternoon keynote will be given by Carlos Delgado Kloos from the Universidad Carlos III de Madrid, Spain on the subject Education is too Important to still Teach like we're in the Middle Ages. The second day of the conference will open with an address by Dr.Anastasios (Tassos) Mikropoulos from the The Educational Approaches to Virtual Reality Lab, University of Ioannina, Greece who will talk about the Learning Affordances of Virtual Reality.
With an initial submission of 188 abstracts, after the double blind, peer review process there are 77 Academic research papers, 9 PhD research papers, 1 Masters Research paper and 4 work-in-progress papers published in these Conference Proceedings. These papers represent research from Argentina, Australia, Austria, Bahrain, Belgium, Canada, Chile, Czech Republic, Denmark, Estonia, Finland, France, Germany, Greece, Iran, Ireland, Italy, Japan, Kazakhstan, Malaysia, the Netherlands, Nigeria, Norway, the Philippines, Portugal, Russia, Saudi Arabia, Singapore, South Africa, Spain, Sweden, Taiwan, Turkey, the UK, the UAE, Uganda, the USA and Vietnam.