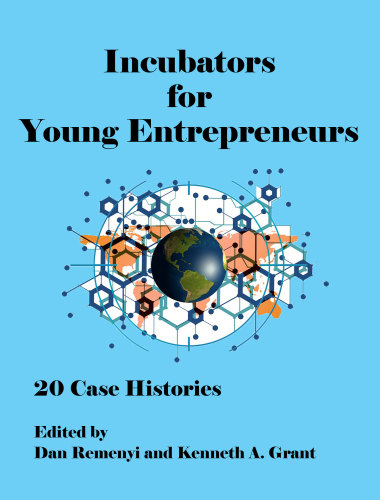 Incubators for Young Entrepreneurs: 20 Case Histories
Edited by Dan Remenyi and Kenneth A Grant ISBN: 978-1-911218-79-1
Entrepreneurship and Innovation education continues to be a high priority in most societies, with small to medium-size enterprises seen as a most important engine of growth in both the developed and the developing world. As a result, many universities have launched educational courses or modules to help educate and develop young entrepreneurs.
However, entrepreneurship is extremely difficult to teach. The tried and tested classroom-based approaches used in most other subjects do not sufficiently address what is needed to be known or experienced in order to have any chance of being a successful entrepreneur. This is because ultimately entrepreneurship is about making things happen. Simply having good ideas is just not enough to create an entrepreneurial opportunity. The good idea has to be tested in the real world and the entrepreneur needs support from a range of facilitators in an entrepreneurial ecosystem for the business to have a real chance of succeeding. The knowledge required for this is of the type that is most effectively acquired by action. So, educating young people in innovation and entrepreneurship is not enough - they need to gain real experience. Youth incubators play a critical role in providing a supportive environment in which young people can get this experience.
In youth incubators, young people can explore and validate business ideas, develop and test business models and identify and validate value propositions for target customers. They discover how to find the right resources, look for the right support, understand the financial and legal environment and funding sources, as well as come to terms with the issues involved in acquiring staff and a place from which to run the business. The young are not "taught", rather their activities are guided by mentors or coaches within a supportive environment. In short youth incubators are a way of being able to deliver the types of experiences that are necessary to give new ideas a proper chance of success.
This anthology consists of 20 case histories describing youth incubators which have been selected from over 50 submissions to be presented at the International Conferences of Entrepreneurship and Innovation over the past three years. These are great examples from various parts of the world showcasing how much can be achieved using this approach to entrepreneurial development. They range from well-funded units in long-established universities to pioneering efforts by individuals or small groups in developing countries. These cases will be valuable to anyone who is involved in either the setup or operation of youth entrepreneur incubators and accelerators. The case histories provide descriptions of each of the incubators, including selection approaches, support provided and community involvement.
We believe that reading about these students' successes will help improve anyone responsible for developing successful youth entrepreneurs.