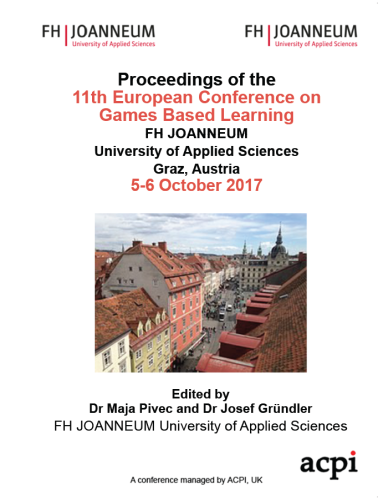 ECGBL 2017 PDF - The 11th European Conference on Game-Based Learning
ISBN: 978-1-911218-57-9
**PDF Version** Book Version also available via Curran: http://www.proceedings.com/
These proceedings represent the work of researchers participating in the 11th European Conference on Games-Based Learning, which is being hosted this year by FH JOANNEUM University of Applied Sciences, Graz, Austria on the 5-6 October 2017.
The Conference has become a key platform for individuals to present their research findings, display their work in progress and discuss conceptual advances in many different areas and specialties within Games-Based Learning. It also offers the opportunity for like minded individuals to meet, discuss and share knowledge in an ever evolving area of research. ECGBL continues to develop, and the wide range of papers and topics will ensure an interesting two-day conference.
The conference this year will be opened with a keynote presentation by Jörg Hofstätter from ovos (http://www.ovos.at) on the topic of "Experiences of a Serious Games Developer". The second day of the conference will begin with a keynote speech given by Carlo Perrotta and Dr. Mata Haggis who will be addressing "The serious business of leisure, and the leisure of serious business: the changing discourses of video games". As well as these insightful conference keynotes, another highlight of the conference is a round table initiated and organised by the Gaming Horizons team (http://www.gaminghorizons.eu/).
In addition to the presentations of research we are delighted to host the fifth year of the International Educational Game Competition (IEGC), which provides an opportunity for educational game designers and creators to participate in the conference and demonstrate their game design and development skills in an international competition. With an initial submission of 68 games, 16 finalists will present their games at the conference. Prizes will be awarded to the games judged to demonstrate the best quality and originality of game play itself and the positioning and articulation of the game's contribution to the educational domain. Due to the increasing number of applications to the competition each year, we have introduced a separate competition for games in early prototype and testing stages. We have called this the Games in Development Competition and 16 finalists will present their games in a Pecha Kucha style session.
With an initial submission of 208 abstracts, after the double blind peer review process, there are 94 research papers, 13 PhD research papers, 5 Masters research papers, 2 non-academic papers and 11 work-in-progress papers published in these Conference Proceedings. These papers represent research more than 40 countries, including Austria, Belgium, Brazil, Canada, China, Cyprus, Czech Republic, Denmark, Ecuador, Estonia, Finland, France, Germany, Ghana, Greece, Hong Kong, India,Indonesia, Iran, Ireland, Italy, Japan, Lithuania, Malaysia, Malta, Nigeria, Norway, Portugal, Russia,Serbia, Singapore, Slovenia, South Africa, Spain, Sweden, Switzerland, Taiwan, Thailand, The Netherlands, Tunisia, UK and USA.