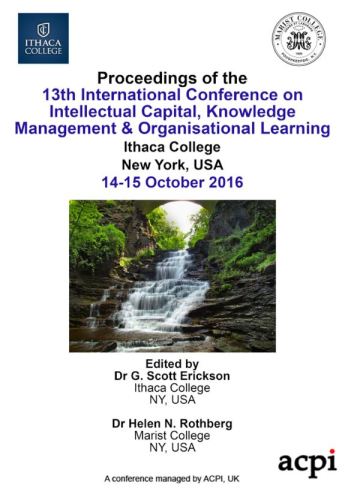 ICICKM 2016 - Proceedings of the 13th International Conference on Intellectual Capital, Knowledge Management & Organisational Learning
ISBN: 978-1-911218-13-5
These proceedings represent the work of researchers participating in the 13th International Conference on Intellectual Capital, Knowledge Management & Organisational Learning – ICICKM 2016, which this year is being held at Ithaca College, Ithaca, New York, USA.
The Conference Chair is Dr G Scott Erickson from Ithaca College, USA and the Programme chair is Dr Helen Rothberg from Marist College, Poughkeepsie, USA.
The ICICKM Conference constitutes a valuable platform for individuals to present their research findings, display their work in progress and discuss conceptual advances in many different branches of intellectual capital, knowledge management and organisational learning. At the same time, it provides an important opportunity for members of the IC, KM and OL communities to come together with peers, share knowledge and exchange ideas. ICICKM has evolved and developed over the last decade, and the range of papers accepted in this year's conference ensures an interesting two-day event.
Following an initial submission of 119 abstracts, after the double blind peer review process, 37 Research papers, 5 PhD Research papers, 2 work-in-progress papers are published in the ICICKM 2016 Conference Proceedings. These papers represent work from Algeria, Brazil, Canada, Chile, China, Denmark, Estonia, Ethiopia, Finland, Germany, Hungary, Iceland, Malaysia, Morocco, Netherlands, Nigeria, Norway, Poland, Russia, Saudi Arabia, South Africa, Sultanate of Oman, Turkey, UK and USA.