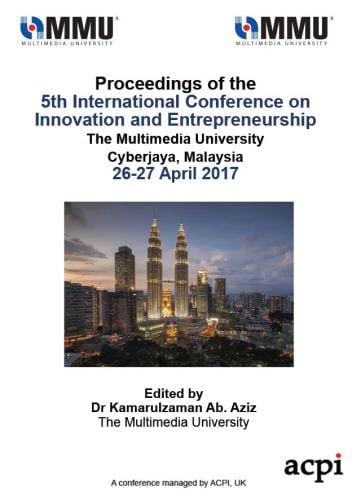 ICIE 2017 PDF - Proceedings of the 5th International Conference on Innovation and Entreprenurship
ICIE 2017 - Proceedings of the 5th International Conference on Innovation and Entreprenurship - ISBN: 978-1-911218-33-3
**PDF Version** Print Version also available via Curran soon
These proceedings represent the work of researchers participating in the 5th International Conference on Innovation and Entrepreneurship (ICIE 2017) which is being hosted this year by the Multimedia University on 26 - 27 April 2017.
ICIE is a recognised event on the international research conferences calendar and provides a valuable platform for individuals to present their research findings, display their work in progress and discuss conceptual and empirical advances in the areas of Innovation and Entrepreneurship. It provides an important opportunity for researchers and practitioners to come together to share their experiences of researching in this varied and expanding field.
The conference this year will be opened with a keynote presentation by Prof Dr Murali Raman from the Multimedia University, speaking on "Fearlessness of Failing: Injecting Creativity in Developing an Entrepreneurial Mindset in a Digital World" and in the afternoon the international consultant Mr Philip Merry, who will discuss, "Entrepreneurship, Synchronicity & Leading with Heart: Intuiting the Future in a Quantum World".
The second day of the conference will be opened by Prof George Teodorescu; the Chairman of the Danubius Academic Consortium Ecosystem for Integral Innovation, who will be talking about "Integral Innovation, a Brain to Business strategy for Leadership". And an afternoon keynote presentation by Adjunct Prof Dato' Dr Ghazali bin Dato' Mohd. Yusoff who is an Honorary Doctor of Law at the University of Nottingham will address the topic "Islam and Business: Innovation and Entrepreneurship Incorporating Values and Belief in God".
With an initial submission of 176 abstracts, after the double blind, peer-review process there are 26 academic Research papers, 2 PhD Research papers, and 1 Work in Progress paper published in these Conference Proceedings. These papers represent truly global research in the field, with contributions from Australia, Canada, China, Finland, France, Germany, India, Indonesia, Iran, Italy, Japan, Malaysia, Nigeria, Philippines, Poland, Romania, Russia, Saudi Arabia, Taiwan, UK and USA.