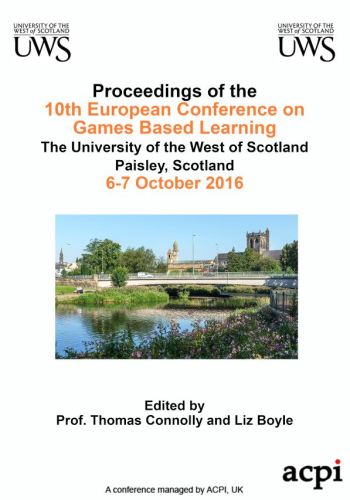 ECGBL 2016 Proceedings
10th European Conference on Games Based Learning
Print version ISSN: 2049-0992
Print version ISBN: 978-1-911218-09-8
These proceedings represent the work of researchers participating in the 10th European Conference on Games-Based Learning, which is being hosted this year by The University of the West of Scotland, Paisley, Scotland, UK on the 6-7 October 2016.
The Conference has become a key platform for individuals to present their research findings, display their work in progress and discuss conceptual advances in many different areas and specialties within Games-Based Learning. It also offers the opportunity for like minded individuals to meet, discuss and share knowledge.
ECGBL continues to evolve and develop, and the wide range of papers and topics will ensure an interesting two-day conference. In addition to the main streams of the conference, there are mini tracks focusing on the areas of the design of Game-Based Learning as Creative-Based Learning, The Teacher's Role, Identity and Presence in Game-Based Learning; Serious Playfulness: Artefacts, Practices and Processes of Design and Use of Digital Technologies for Serious Play; Effective Persuasive Games: What Makes Them Effective? And Games for STEM (Science, Technology, Engineering, Mathematics) Learning.
In addition to the presentations of research we are delighted to host the third year of the Serious Game competition, which provides an opportunity for educational game designers and creators to participate in the conference and demonstrate their game design and development skills in an international competition. This competition is again sponsored by SEGAN – Serious Games Network. With an initial submission of more than 60 games, 28 finalists will present their games at the conference. Prizes will be awarded to the games judged to demonstrate the best quality and originality of game play itself and the positioning and articulation of the game's contribution to the educational domain.