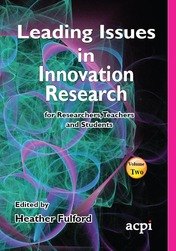 Leading Issues in Innovation Research Volume 2
A collection of important Innovation Research papers ISBN:978-1-910810-40-8 Published by Academic Conferences and Publishing International September 2015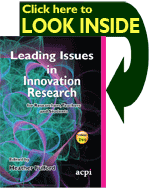 Edited by Heather Fulford
Published by Academic Conferences and Publishing International
Professor Heather Fulford is the Academic Director of the Centre for Entrepreneurship and Research Coordinator for the Department of Management at Aberdeen Business School, Robert Gordon University in Scotland. Her research interests include: innovation in SMEs, enterprise education, business start‐up support and resources, and social enterprise. Heather delivers programmes on enterprise and employability, and new venture creation.
The papers selected for inclusion in this volume explore some of these issues relating to innovation stimulation and management in SMEs. The studies reported in these papers provide starting points for thoughtprovoking discussion and reflection on themes such as innovation and growth, innovation alliances, open innovation, and resource management for innovation.
The papers raise questions about the role innovation plays in an SME's ability to be competitive and sustainable, as well as some broader questions about the contribution of small firm innovation in the wider growth and development of a nation, including in transition and developing economies.
The research papers have been selected from papers published first in the refereed proceedings of the European Conference on Innovation and Entrepreneurship or the proceedings of the International Conference on Innovation and Entrepreneurship.
Edited by Heather Fulford
ISBN: 978-1-910810-40-8
Published September 2015