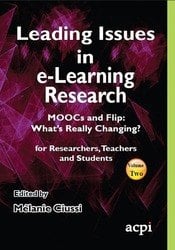 Leading Issues in e-Learning Research MOOCs and Flip: What's Really Changing? Volume 2
A collection of important e-Learning papers Volume 2 PRINT Published by Academic Conferences and Publishing International Limited March 2015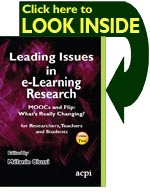 Edited by Mélanie Ciussi
Published by Academic Conferences and Publishing International Limited
e-Learning is undergoing a revolution. In this ever more globalised and interconnected world, the expectations of X and Y generation learners are changing the way we teach. They want interactive, social and mobile course presentation formats, which are resulting in novel teaching methods like flipped classrooms, new tools for learning, apps, social learning and augmented reality. Additionally, MOOCs (Massive Open Online Courses) can offer free education for learners around the world.
In this 2nd Volume, Mélanie Ciussi has put together an excellent collection of leading research papers on the pedagogical innovations that are part of this digital revolution. The general reader as well as researchers, teachers and students will find this book very rewarding.
This title is also availabe in an ePUB format. Click here for details.
Edited by Mélanie Ciussi
Print ISBN: 978-1-910309-89-6
164 Pages
Published March 2015