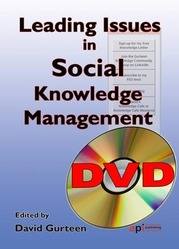 Social Knowledge Management: A conversation with David Gurteen - DVD
An enguaging discussion between David Gutreen and Dan Remenyi on issues surrounding Social Knowledge Management

Social Knowldge Management: A conversation with David Gurteen
Perhaps one of the most surprising if not actually unsettling things about the Internet and the Web is that there is always something new on the horizon and that it is very difficult to see where this new technology will take us. When ICT was just about big computers and organisational systems it was pretty obvious where the technology was moving us.
This DVD consists of a conversation in which David Gurteen discusses a wide range of issues in and surrounding developments in Social Knowledge Management.
The discussion is prompted by Prof Dan Remenyi.

Click the icon to read an extract from the the companion book edited by David Gurteen
To watch the trailer see: http://www.youtube.com/watch?v=1jwiIH1ncbE