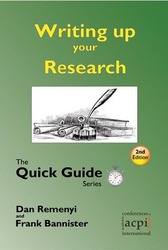 Writing up your Research - The Quick Guide 2nd Edition
This book contains the information you need to write up a research dissertation or thesis and how to go about producing this work in a controlled and satisfying way. ISBN: 978-1-908272-28-7 Published January 2013
This book is also available in ePUB format. Click here to purchase the ePUB version.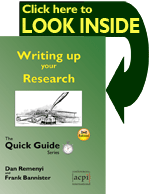 The

Quick Guide

Series

Published by Academic Publishing International
Authors: Dan Remenyi and Frank Bannister
This new edition of the popular Quick Guide to Writing up your Research has added sections on data management, writing with rigor, common errors in written English and more.
There are always challenges in writing up your research. Sometimes the problem is to do with the process of the actual writing itself and other times it concerns how to ensure that all the aspects of the research which have to be mentioned in a research dissertation are included in the right place and to an appropriate level. If this is addressed appropriately, writing up can be accomplished relatively easily, but if it isn't managed well writing up can become a burdensome event.

Having a high level overview of what is required when writing up your research is one of the ways of making this job, which many researchers find daunting and arduous, much easier. This book is in four parts: Writing; the Body of the Dissertation; the Leading Pages; and the Appendices.
This book contains the information you need to write up a research dissertation or thesis and how to go about producing this work in a controlled and satisfying way.
Authors: Dan Remenyi and Frank Bannister
ISBN: 978-1-908272-28-7

128 Pages
Published January 2013
I found the book easy to read and an easy guide to pick up as and when I need it. I also like the number of links the book contains, the glossary of terms and the illustrations which breaks up the text. Elaine Garcia