Dictionary of Research Concepts and Issues ePUB version
This book A Dictionary of Research Concepts and Issues has been prepared to assist students, lecturers and others who wish to improve their command of the language of research. ePUB version ISBN: 978-1-910309-53-7 Published September 2014
This book is also available in PRINT format.

Click here

to purchase the PRINT version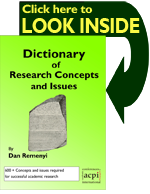 Published by Academic Conferences and Publishing International - ePUB version
Dictionary of Research Terms and Issues by Dan Remenyi
The files are created with a .epub extension. Make sure that your eReader can support files formatted as .epub. An ePUB plug-in for Firefox can be downloaded at no charge here. A reader application with a useful set of add on features can be found at http://calibre-ebook.com To learn more about the different e-book formats click here.
When purchasing an ePUB, after Paypal confirms payment, you will be sent a separate email containing a link to download the ePUB file.
Academic research is a different world to that which is normally encountered in everyday life and as such it has a unique set of concepts and issues with which it operates.
Learning the vocabulary required to understand these concepts and issues is a non-trivial challenge.
This book A Dictionary of Research Concepts and Issues has been prepared to assist students, lecturers and others who wish to improve their command of the language of research.
The 600+ concepts and issues is not a definitive list of the ideas which a researcher could encounter but it is a solid basis on which to build a sound understanding of this interesting subject.
Author: Dan Remenyi
ISBN: 978-1-910309-53-7
202 Pages
Published September 2014