Dictionary of Research Concepts and Issues PRINT version
This book A Dictionary of Research Concepts and Issues has been prepared to assist students, lecturers and others who wish to improve their command of the language of research. ISBN: 978-1-910309-51-3 Published September 2014
This book is also available in ePUB format.

Click here

to purchase the ePUB version.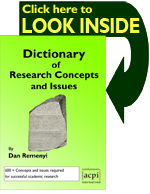 Dictionary of Research Terms and Issues by Dan Remenyi
Published by Academic Conferences and Publishing International
Academic research is a different world to that which is normally encountered in everyday life and as such it has a unique set of concepts and issues with which it operates.
Learning the vocabulary required to understand these concepts and issues is a non-trivial challenge.
This book A Dictionary of Research Concepts and Issues has been prepared to assist students, lecturers and others who wish to improve their command of the language of research.
The 600+ concepts and issues is not a definitive list of the ideas which a researcher could encounter but it is a solid basis on which to build a sound understanding of this interesting subject.
Author: Dan Remenyi
ISBN: 978-1-910309-51-3
202 Pages
Published September 2014