Case Studies in e-Learning Research for Researchers, teachers and Students
Edited by Sue Greener. ISBN:978-1-909507-81-4 Published November 2013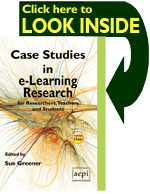 Edited by Sue Greener
Innovation in learning and teaching is a matter of good design as well as matching pedagogy to the needs of learners. The case studies selected for this book demonstrate the vibrant innovative practice to be found in schools, colleges and universities in Europe and Canada.
This group of authors has gone to considerable trouble to justify, evaluate and share their ideas and experiences for the benefit of the learning and teaching community through the case study format, which offers the reader a mix of technologies, media and learning contexts. There are lessons here for researchers and teachers who wish not only to develop their thinking about e-learning but also to have practical questions answered about implementing technology enhanced learning.
Learning technologies explored include blogging tools, wikis, e-portfolios, computer-assisted assessment, audience response surveys through mobile devices, social media tools, peer review and grading software, Cloud-based computing and multimedia projects. But it is not just about the technology, it's about the learning.
This is the companion book to Leading Issues in e-Learning Research edited by Mélanie Ciussi and Erik Gebers Freitas for more information about this book click here.
Edited by Sue Greener
ISBN:978-1-909507-81-4
218 Pages
Published November 2013