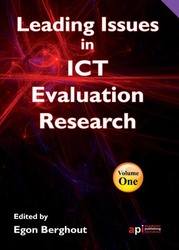 Leading Issues in ICT EValuation
A collection of important ICT Evaluation Research papers ISBN:978-1-906638-90-0 Published by Academic Publishing International January 2012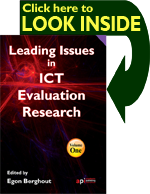 Published by: Academic Publishing International
Edited by: Egon Berghout

ICT evaluation is a perennial issue and it is likely to remain so. There are a number of different reasons for this and one of the most important is that it is no trivial matter to establish the real costs and the benefits of effectively employing ICT in an organisation.
Another reason why ICT evaluation is regarded with such importance is the ever growing size of the investment required to set up and deliver innovative information systems. It has long since been the case that the sum invested in ICT has outstripped the rest of the capital investment budget in a large number of organisations.
Perhaps because of the amount of investment in ICT has been so great, we have made much progress in our understanding of the issues related to the costs and the benefits involved with ICT evaluation. Leading Issues in ICT Evaluation Research provides a number of important insights into this complex issue.
The book is of value to a wide range of individuals working with ICT including, academics, their students and other researchers as well as consultants and practicing ICT professionals. 204 pages
Edited by: Egon Berghout
ISBN:978-1-906638-90-0
204 Pages
Published January 2012