Leading Issues in Games-Based Learning Research
A collection of important Games-Based Learning papers ISBN: 978-1-908272-24-9 Published by Academic Publishing International September 2011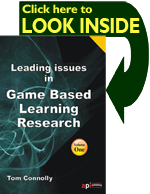 Published by: Academic Publishing International
Edited by: Thomas Connolly

It has been said that the future will never be the same again, which is undoubtedly true, as is the statement that learning will never the same again. Many of the old rules of learning are being swept away and it is increasingly realised that knowledge of "fact" is less important than understanding of situations. It is now well established that understanding can be facilitated by simulation, which is one of the principles on which games-based learning is founded.
Games-based learning is also important because there is so much pressure on the teaching resources available. Demand for learning has never been greater and it is likely to continue to grow exponentially. In this environment games-based learning has come into its own.
It has always been true that there has been much to learn from games. Both competitiveness and team work have traditionally be learnt on the playing fields of schools around the world. Strategic thinking has been learnt from games such as Chess, even Checkers, and in a more sophisticated way the board game Diplomacy.
With the power available through ICT entirely new games are possible that have a much richer and more engaging potential for learners. This is transforming learning and opening up new avenues for both learners and those who are helping them learn. This book represents some of the leading edge thinking in this field and is highly recommended to academics and training practitioners.
Edited by: Thomas Connolly
ISBN: 978-1-908272-24-9
207 Pages
Published September 2011