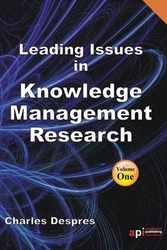 Leading Issues in Knowledge Management Research
A collection of important Knowledge Management papers ISBN: 978-1-906638-88-7 Published by Academic Publishing International April 2011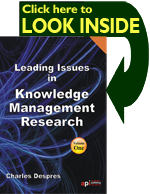 Edited by Charles Despres
Published by Academic Publishing International
Knowledge management is one of the most enduring concepts aimed at how to improve management efficiency, effectiveness and competitive advantage. It was originally thought to be a fad, but instead of being of interest for 5 to 10 years like other fads it has been at least 20 years since it became an issue in modern times.

Many researchers now believe that it is an important academic field of study which is essential to address from both a research point of view and a teaching perspective. For that reason we have compiled 10 leading edge research papers which address some of the most important issues in that filed.

This book represents a marker of our current state of knowledge in the knowledge management field.
Edited by Charles Despres
ISBN: 978-1-906638-88-7
206 Pages
Published April 2011