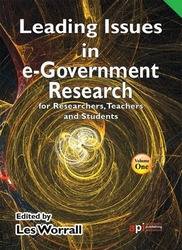 Leading Issues in e-Government Research for Researchers, Teachers and Students
A collection of papers focusing on key issues in e-Government ISBN: 978-1-906638-89-4 Published by Academic Publishing International April 2011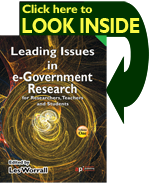 SALE PRICE: £7.00
RRP: £19
Edited by Les Worrall
Published by Academic Publishing International
e-Government with its potential to improve the efficiency and the effectiveness of the bureaucracy which manages our society remains one of the most important issue facing us today.
This book is a collection of research papers which focus on leading edge issues in e-Government. The research reported here has been conducted in several countries by leading academics in the field.
These papers were originally published in the Electronic Journal of e-Government.
This book is of particular interest to any conducting or pursuing a course in e-Government as well as those who are researching in this field.
Print Version
Edited by Les Worrall
ISBN: 978-1-906638-89-4
268 Pages
Published April 2011